Dansko Monsters
Review by Kristine on 1 Jan 2019
My Dansko Monster shoes are amazing , I work at an animal shelter an the water proof shoes are grrreat! Plus walking 8 miles a day these shoes are comfortable and durable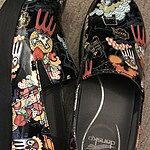 Perfect for work
Review by Bethany on 22 Oct 2019
Lightweight and comfortable and squishy cushion perfect for working all day.
I love them my knees
Review by Jean on 10 Jul 2019
I love them my knees and back love them too after 10 plus hours on my feet are not near as sore
Love my shoes.
Review by Kristine on 23 Jun 2019
Perfect shoes for all day Comfort, I love them.
I love it 🥰
Review by Erica on 15 May 2019
I love it 🥰