These sandals are so pretty.
Review by James on 31 May 2019
These sandals are so pretty. Everyone who sees them goes gaga over them! They are so comfortable.
The fit is true to size❤️I couldn't be more pleased with them!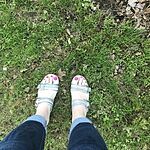 Super comfortable sandals
Review by Anjuli J. on 21 May 2019
I'm relatively new to Dansko shoes. After wearing converse and cheapo flip flops for over 15 years and causing my feet to flatten, I was referred by a foot doctor towards Dansko. I have way less foot pain these days, and it's nearly blissful. I started with the clogs, then summer was coming so I needed some sandals cuz I'm a breathable-foot gal. I got these and I'm so glad I did! Super comfy and cute. I'd like to warn people, don't step on those eucalyptus seeds, like I did a couple weeks ago. These shoes are not forgiving when stepping on a hard large seed. Fell flat on my face. It hurt. Still love the shoes tho!
Comfort!
Review by Angela on 9 Apr 2019
I love the look of this sandal- but the amazing thing is how comfortable they are! Thank you!
great shoes have many pairs
Review by Belinda on 1 Jan 2019
great shoes have many pairs
Love the shoes. Very comfortable.
Review by Eloise on 17 Mar 2018
Love the shoes. Very comfortable. I